6 Actionable Tips to Upgrade Your eCommerce Customer Service Strategy [2021]
The eCommerce landscape is jam-packed with competitors. It doesn't help that the big players are stocked with seemingly unlimited inventory and offer pretty much instant turnaround at rock-bottom prices that are hard to compete with.
However, if there's one area that allows your store to stand out and shine, it's customer support. A whopping 67% of customers say they'd be happy to pay more for a great experience, which is why you should be looking to treat your support as a central tool in winning brand loyalty, boosting conversion rates, and creating higher customer LTVs. 
In this post, we'll show you exactly how with six super-actionable tips to boost your eCommerce customer service strategy. 
Let's get into it! 
1. Understand How Customers Interact With Your Store and Fix Bottlenecks
Support isn't just about assisting customers when they reach out to you while experiencing issues. It's about understanding exactly what your customers are going through and how they go about solving their problems. 
To do this, you'll need to identify the different steps your customer goes through in engaging with you. 
Plot a customer journey map to understand where your users are coming from – email /Google ads/social campaigns -, their goals at each stage, and how long their journey takes. You can use a tool like Google Analytics to understand how users move through your site. Look at the different touchpoints to identify trends and commonalities in their behavior.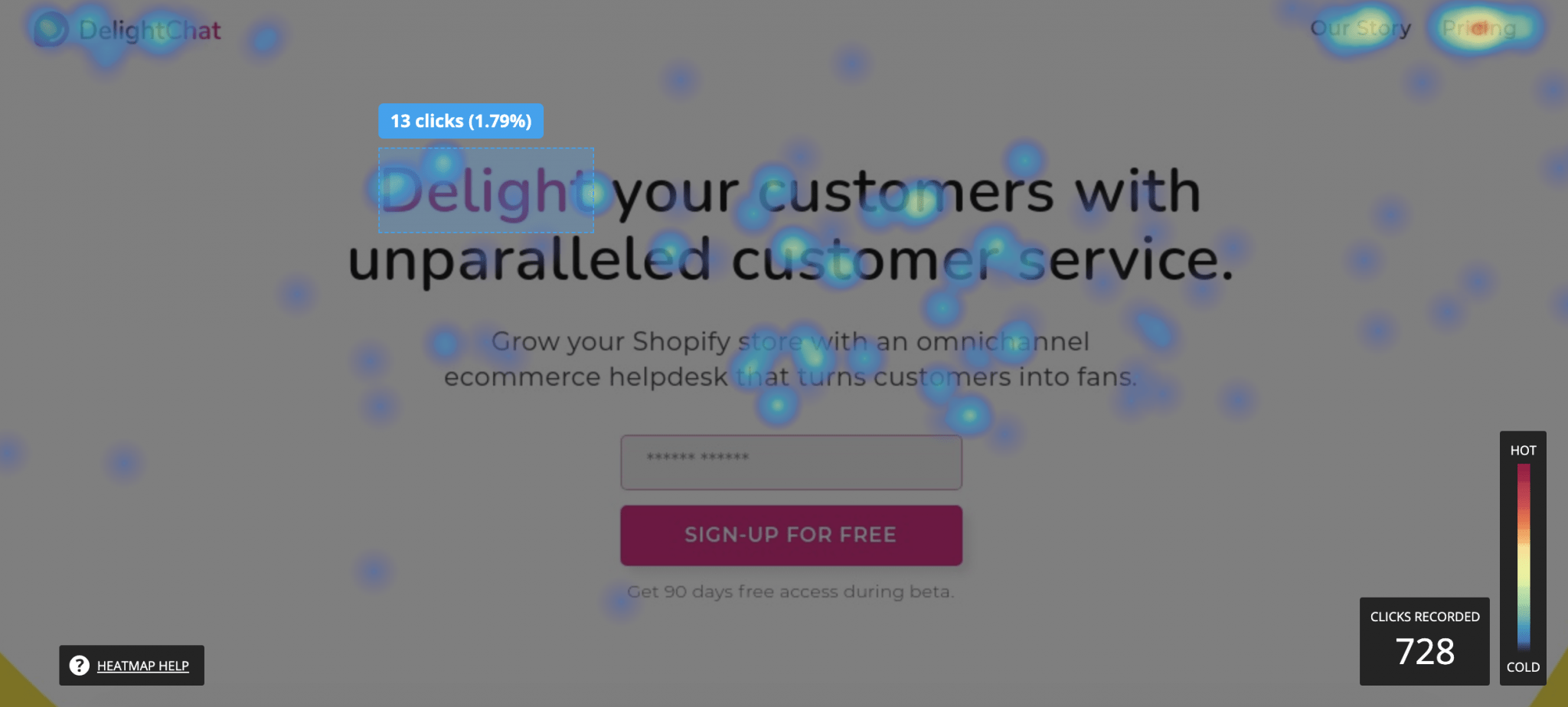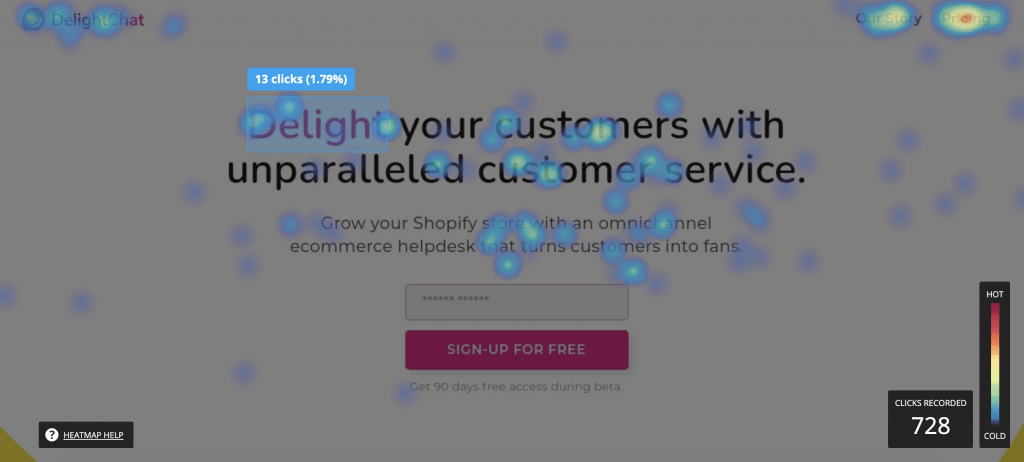 Take it a step further by using a tool like Hotjar to view screen recordings of visitor sessions, heatmaps of different pages, and scrolling behavior. This will help you gain a more in-depth understanding of how your customers interact with your website.
Once you have this understanding, you can look at areas of your website where users are getting stuck and fix them. 
For example, if a lot of your customers exit from your checkout page, you may want to include a live chat option or address questions related to your payment, shipping, and returns policies, depending on the exact issue that's making people leave. 
Understanding the typical path your users take and determining the problems they could face is the first step towards providing high-quality eCommerce support. 
2. Pick the Right Software to Organize Your Customer Support
Your customers are going to find and engage with you through a variety of different channels. This could include phone, email, live chat, Facebook ads or other social posts and everything in between.
To provide fast and helpful support across multiple channels, you'll need to select the right eCommerce customer service software. Here are the main features you'll want your support tool to have: 
An omnichannel help desk to manage support across platforms.

A shared inbox to easily collaborate with your team by tagging each other in tickets, assigning conversations, and sharing screenshots, for example.

Deep Shopify integration to ensure all your customer information is up-to-date and in one place so you can make changes from directly within the app.

Fast replies to easily customize pre-made templates and respond to repetitive queries.

Collision detection to avoid multiple agents responding to the same customer.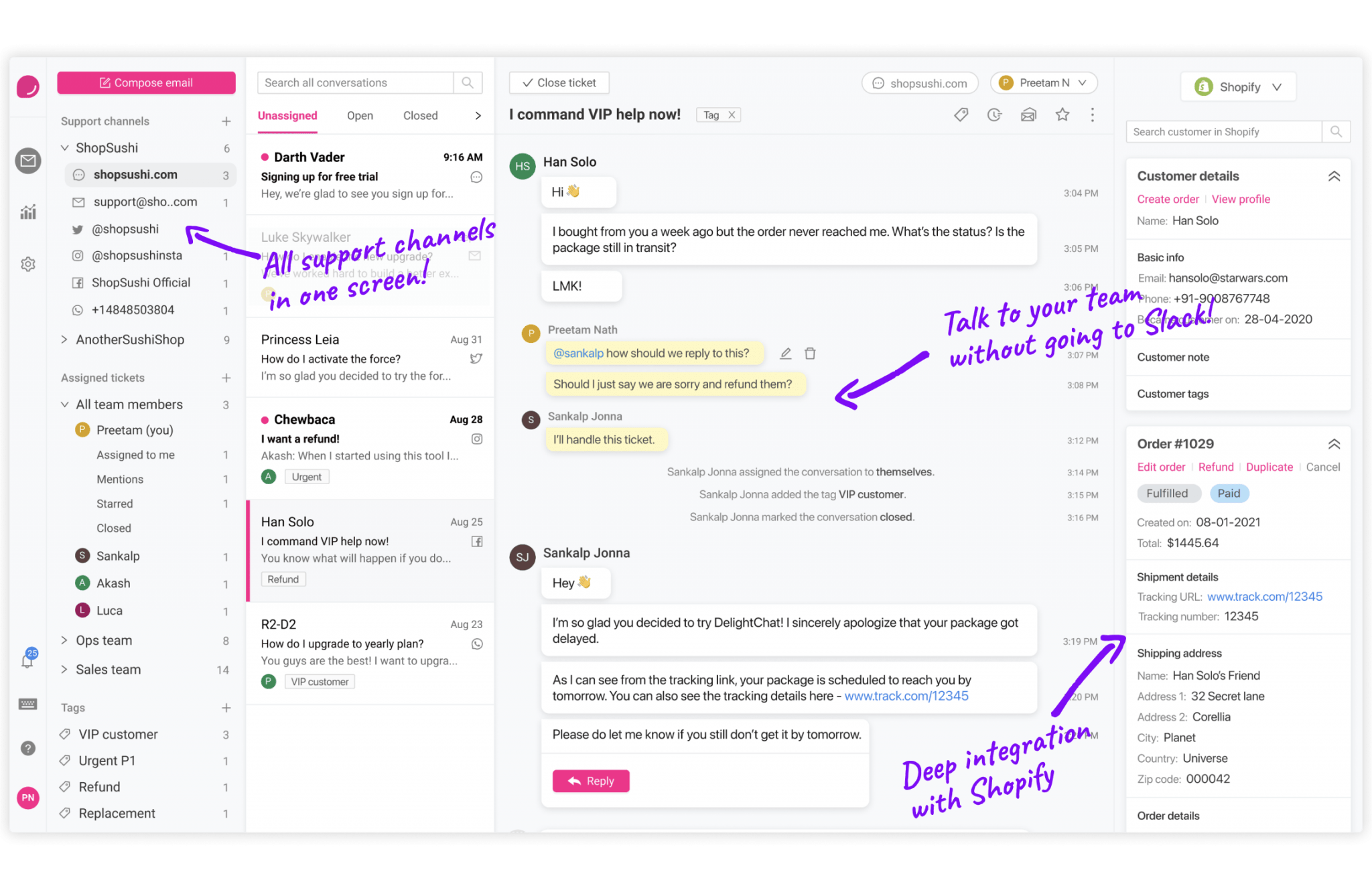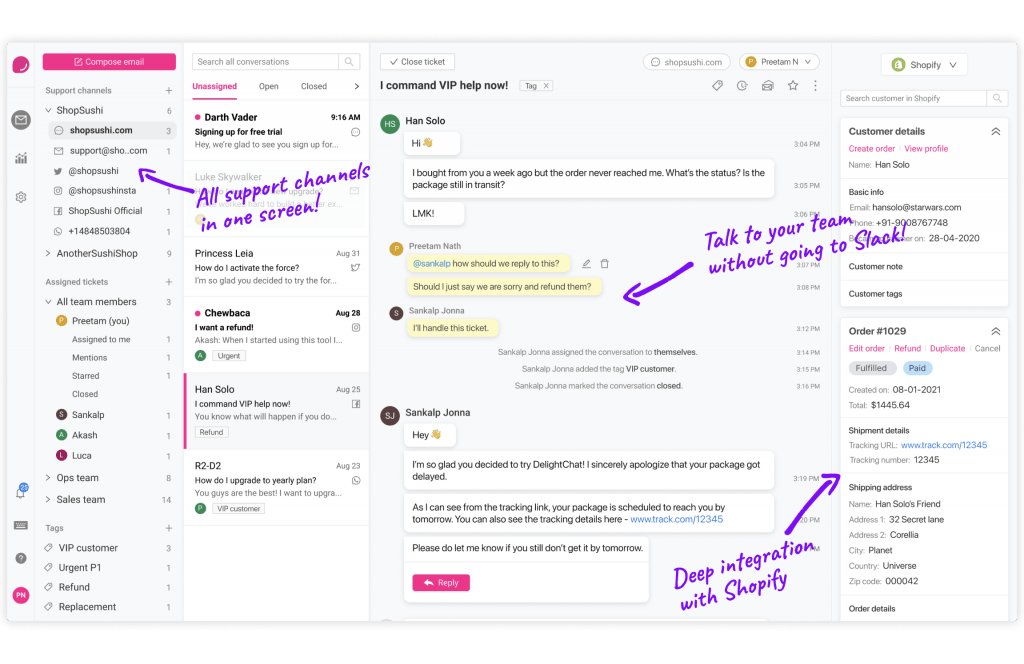 You can find tools that fit the bill at every price range. However, we'd highly recommend going with one that was built for eCommerce (for example DelightChat, Gorgias, or Reamaze) since it will cater to the unique problems and specific needs of an eCommerce business.
3. Empower Customers to Help Themselves With a Knowledge Base
As the saying goes, "Self-help is the best help". 91% of people say they would use an online knowledge base if it was tailored to their needs.
This is no different for eCommerce customer support, either. Having a centralized online database of information which includes FAQs and troubleshooting guides serves several purposes. Not only are you empowering your customers to receive help at their own convenience, but you're also saving your support agents' time, so they can work on other tasks. 
An up-to-date knowledge base is also a valuable resource to train and maintain consistency across your team.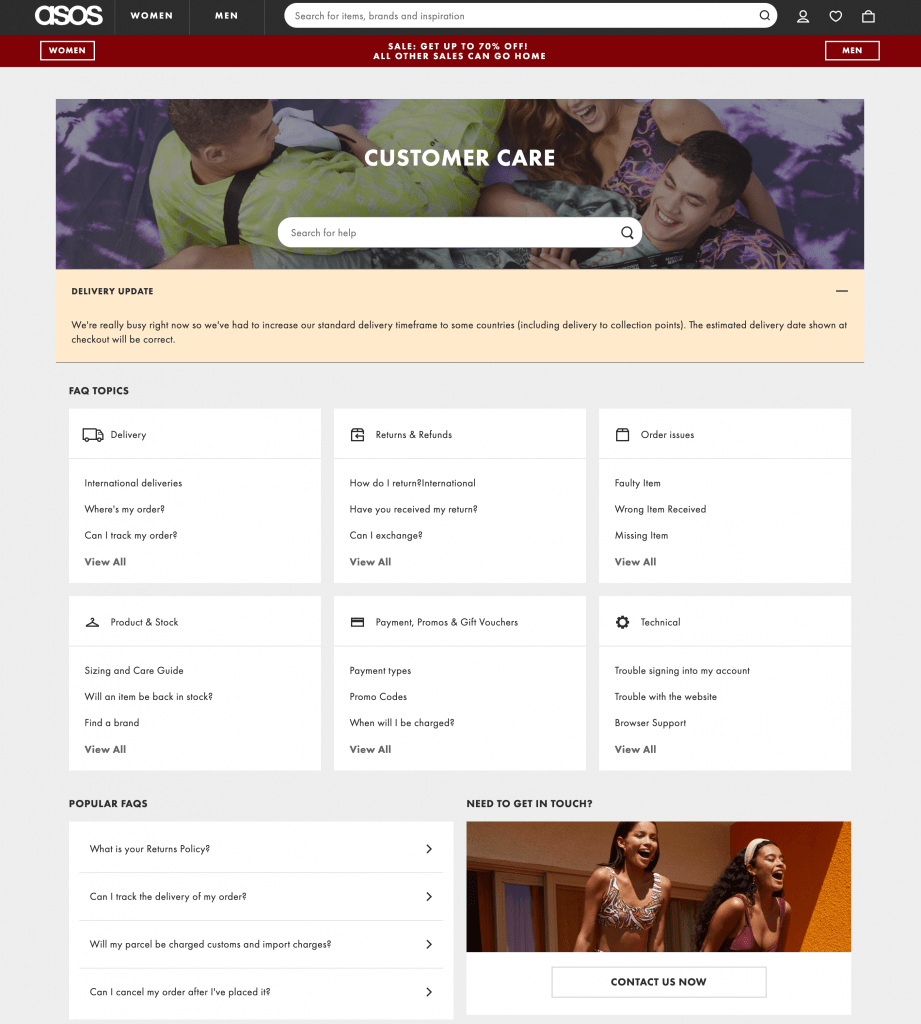 Here are some best practices to keep in mind for your eCommerce knowledge base: 
Make sure it's easy for users to search and well-organized with clear sections. 

Maintain consistent formatting and keep it easy to scan with headers, line breaks, and bullets.

Organize articles chronologically to match your customer's purchase journey.

Use links to direct customers towards more information without making your articles excessively lengthy. 

Include images or screenshots when you're walking customers through how to do something on your website.

Use clear titles which are optimized with the right keywords to allow your users to find answers directly through Google search. 
4. Be Proactive in Finding and Solving Issues Before They Escalate 
Proactive customer support means helping your customers before they reach out to you for assistance.  This not only reduces support interactions, but also builds customer trust, which ultimately improves retention rates.
Identifying patterns in customer queries and answering them with knowledge base articles is a great first step towards proactive customer support, but it isn't the only way. Here are some more ways you can be proactive with your support:
Convey issues related to shipping, inventory, or other stages in the purchasing journey before the customer realizes there's a problem.

Monitor social media conversations (with a tool like

Mention

) so you can listen and respond to what your customers are saying.

Create helpful content (like a blog, newsletter, or video) to help your customers get the most out of your products. 

Constantly seek feedback through surveys and questionnaires to understand how customers feel and learn about things you can improve. 
Let's take a look at some examples.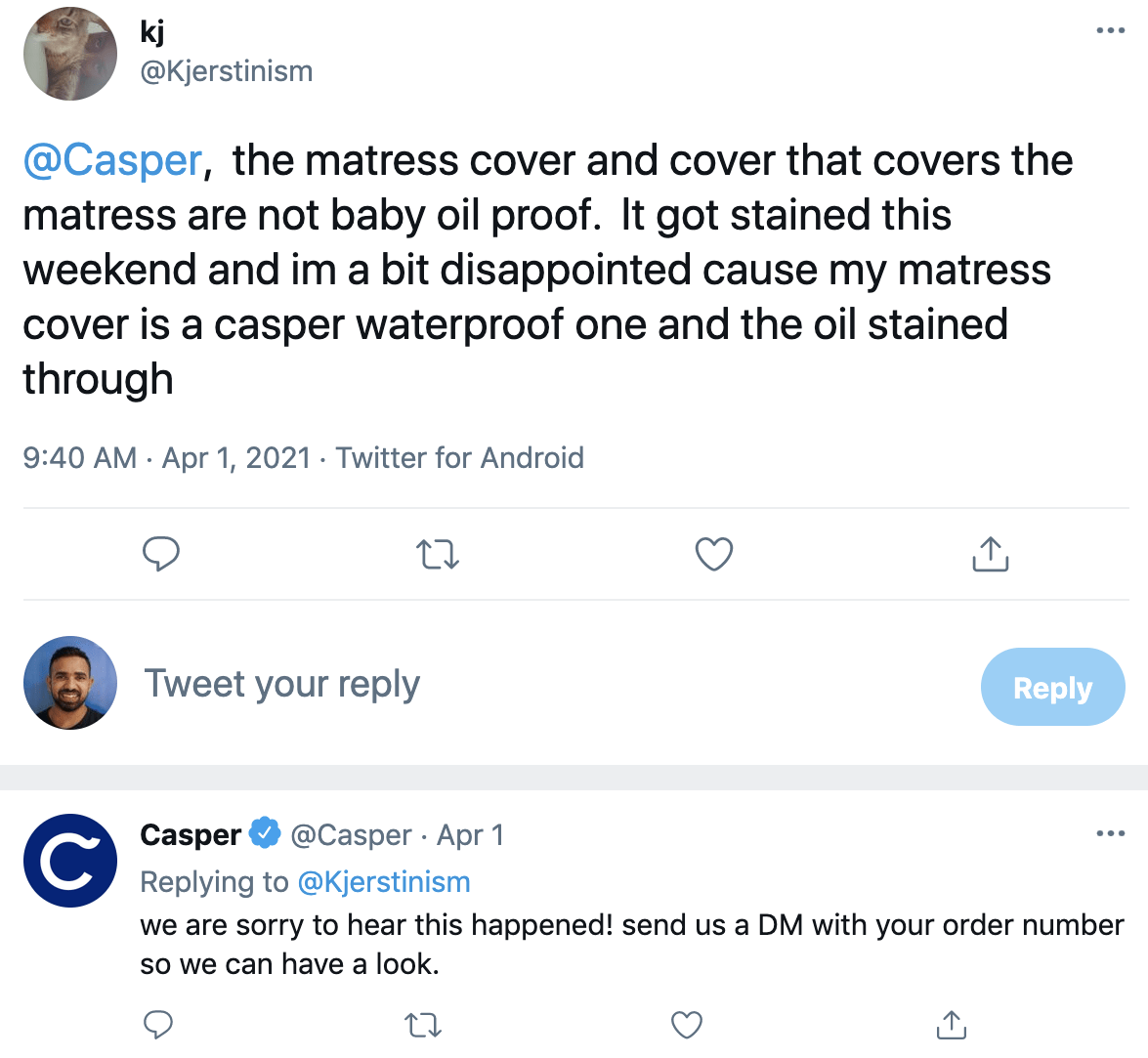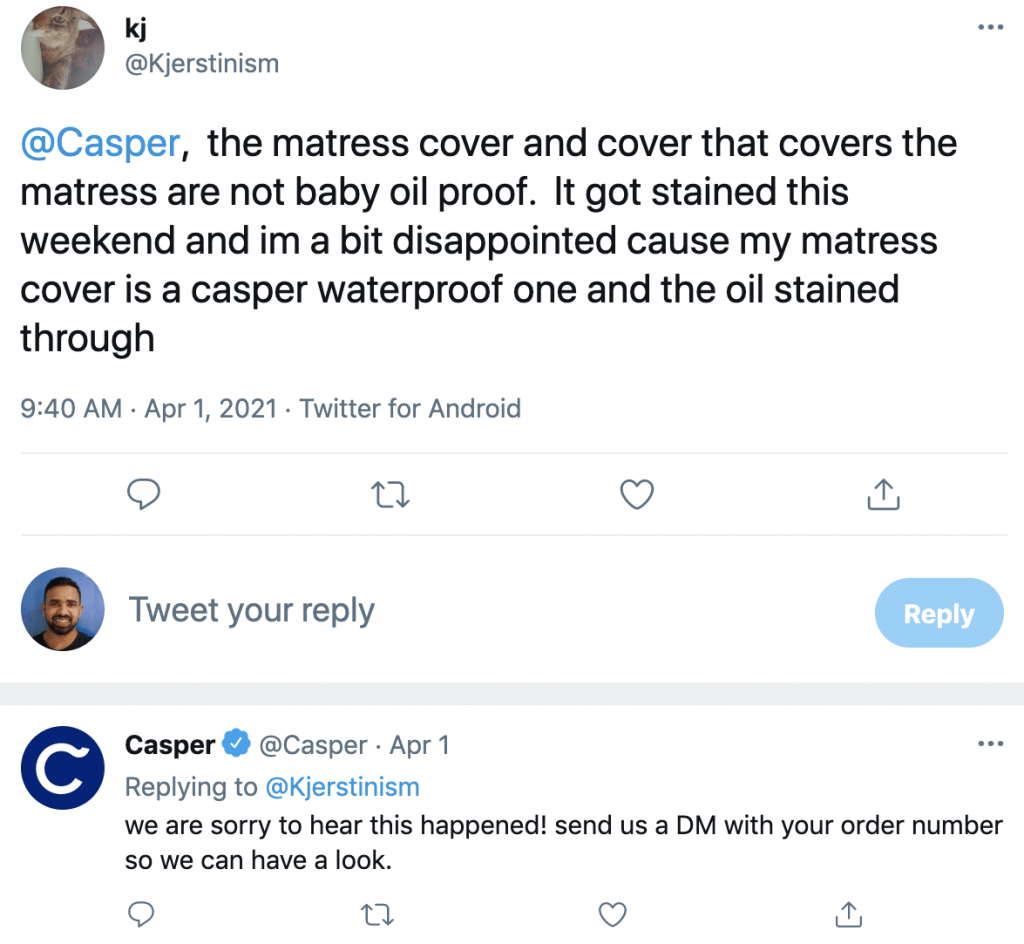 Casper, the mattress company, monitors mentions on social media channels like Twitter and promptly responds to issues faced by its customers. 
Beardbrand, the men's grooming store, does a phenomenal job with its content marketing.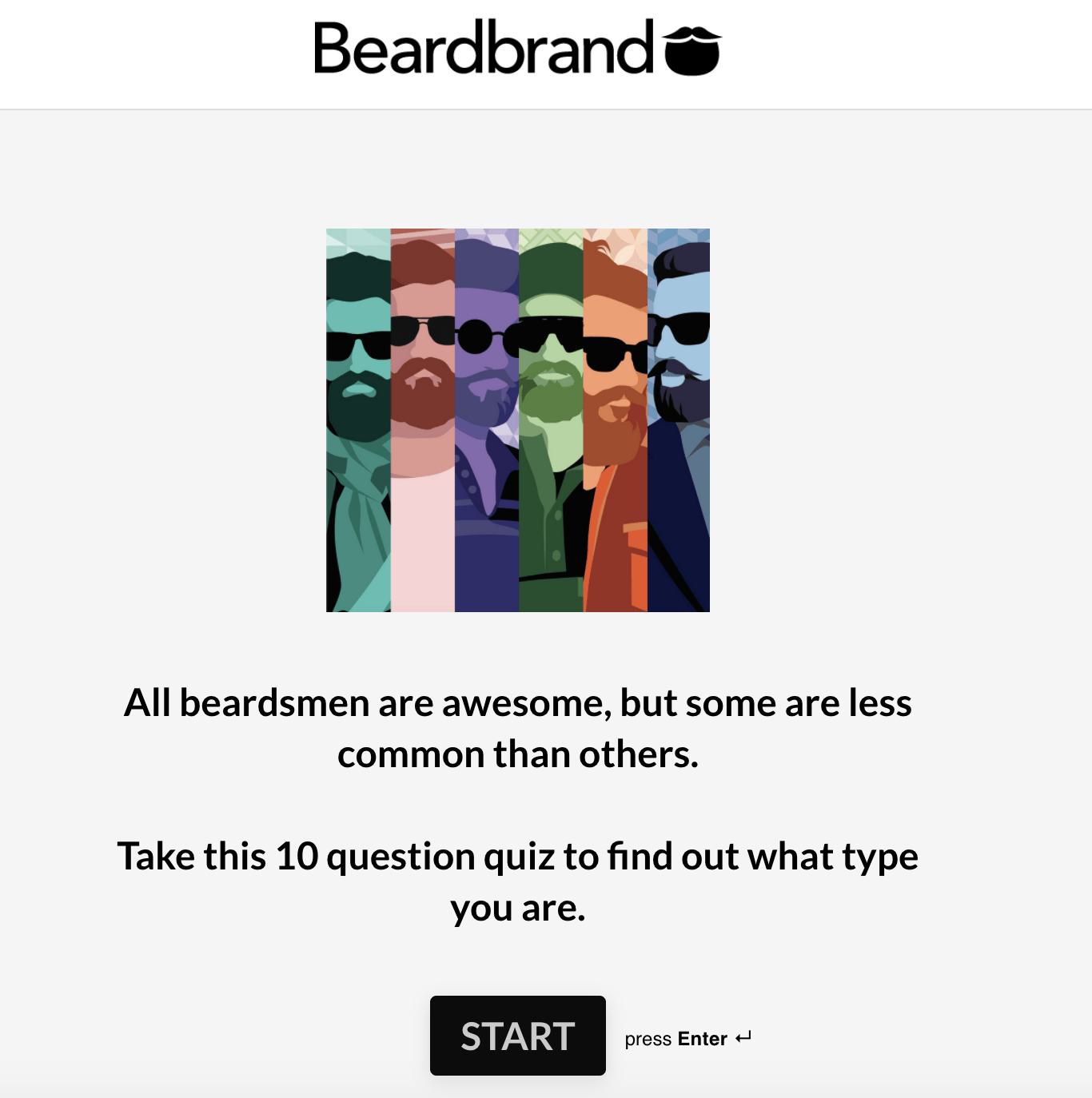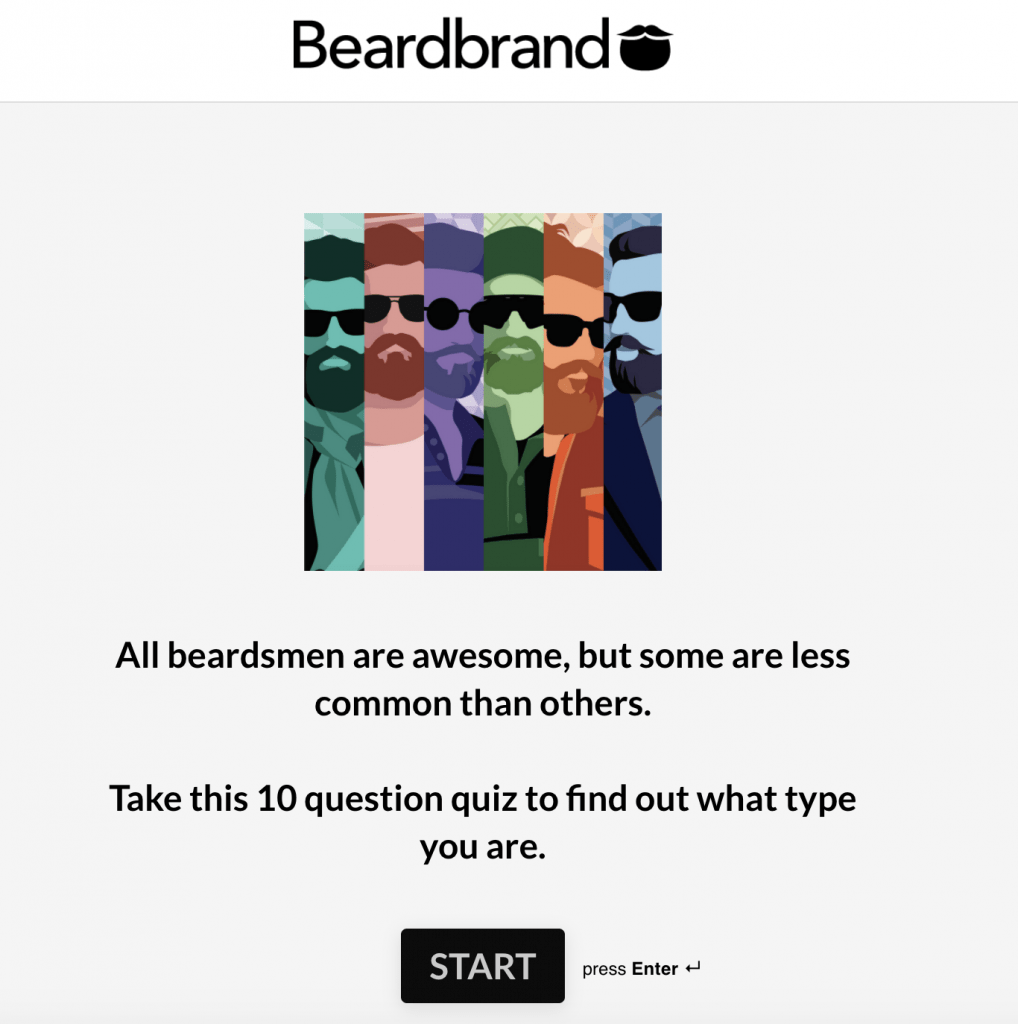 Their website offers different interactive quizzes to help give personalized product recommendations. Additionally, they're very active on YouTube, providing educational content to help their (over 1.6 million) subscribers get the most out of their grooming products.  
5. Automate Without Compromising on Personalization
Time is money. If you're saving your support agents' time while providing a better customer experience, you're saving both, right?
Automation helps eliminate human intervention whenever it's inefficient or unnecessary. The first step towards eCommerce support automation is keyword-based automatic responses to transactional messages related to orders, receipts, and shipping, as well as responses to standard questions like, "Where is my order?" or "How do I return this?".
Additionally, you can list common phrases and words used by frustrated customers to identify issues and handle them more efficiently. 
Creating easy-to-edit templates for recurring queries and sending automated follow-ups to customers who don't complete their purchase are more things you can do to make your customer service a lot more effective.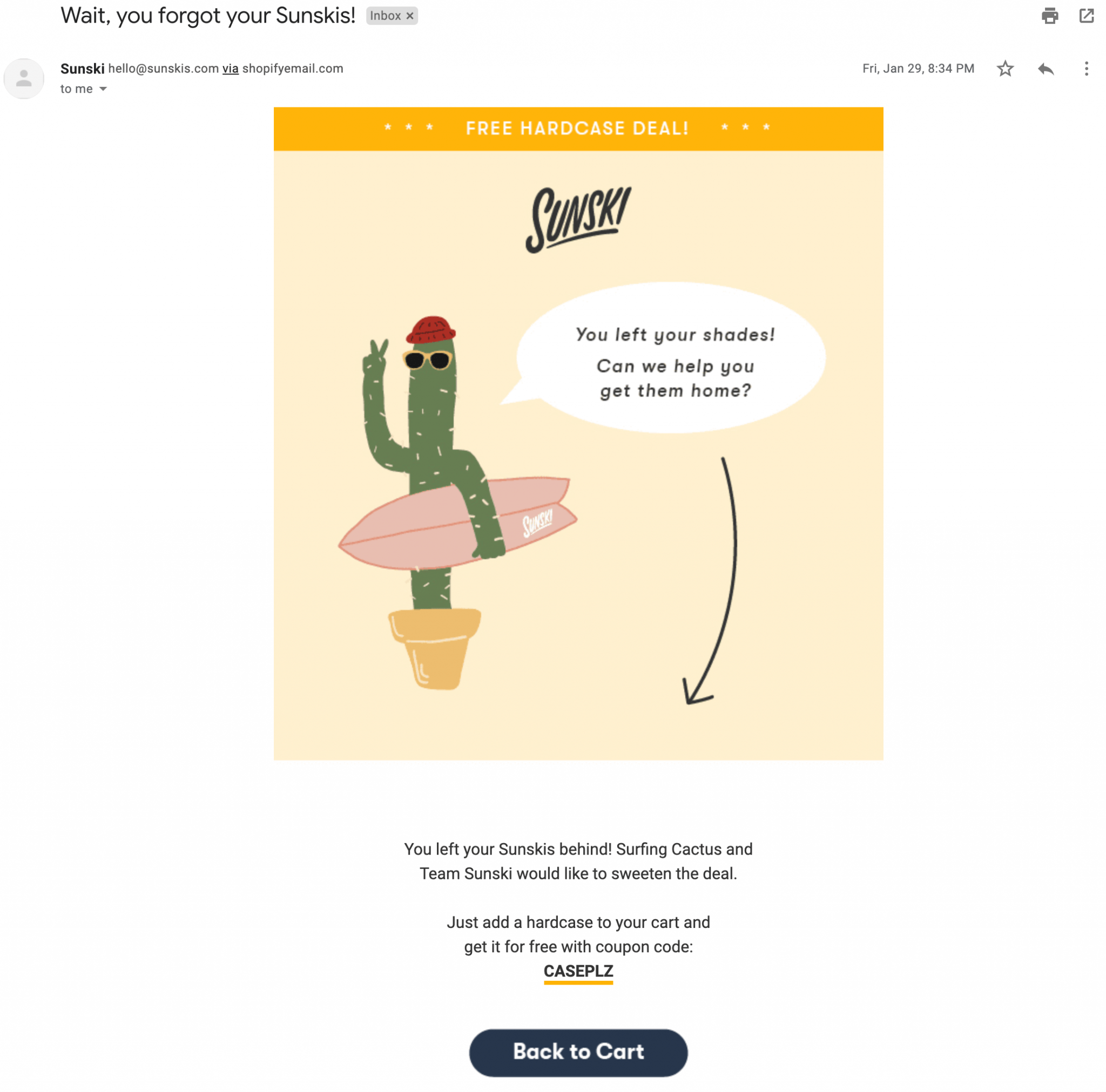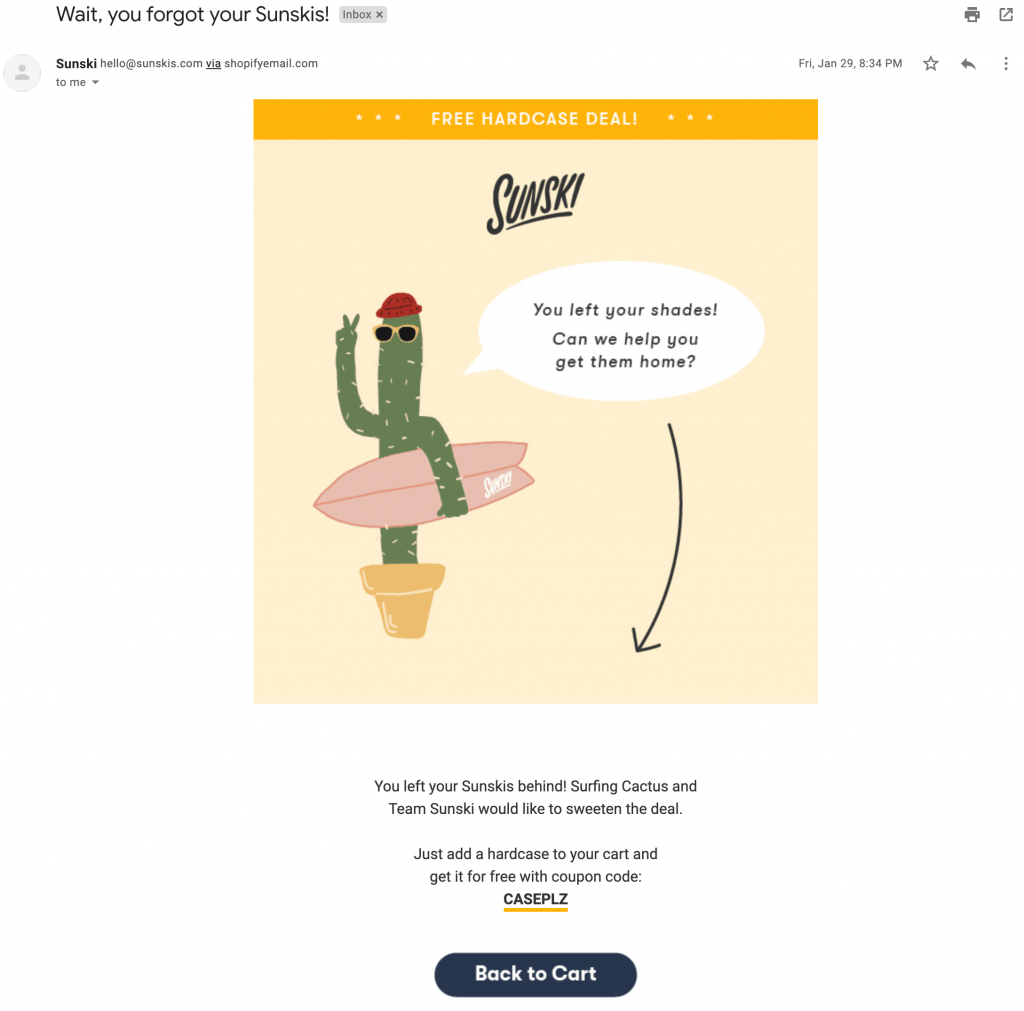 For example, Sunski sends an automated abandoned cart recovery email series to customers who have added items to their cart and exited without completing their purchase. They even incentivize shoppers to complete their orders by adding a coupon code to redeem a free add-on. 
While automated responses are a huge boon, there's one big caveat. Automated responses are not a substitute for building relationships with your customers. In fact, they're there to make it easier to do so.
You don't need to sound like a robot because your responses are automated. With the amount of data available about your customers, there's simply no excuse for not personalizing your communication.
Finding the right mix between automation and personalization will help you serve your customers better while also building brand loyalty. 
#6. Combine Support Metrics With Overall Business Metrics and Internal Standards 
To upgrade your eCommerce customer service, you'll first need to find out how effective the support activities you've undertaken so far have been.
For example: 
Has creating a comprehensive knowledge base reduced the number of conversations you're having?

Do personalized or faster responses have a bigger impact on customer happiness? 

Have the tools you've selected resulted in greater customer loyalty? 
Of course, the eCommerce metrics which matter the most to you may be different from the next online store.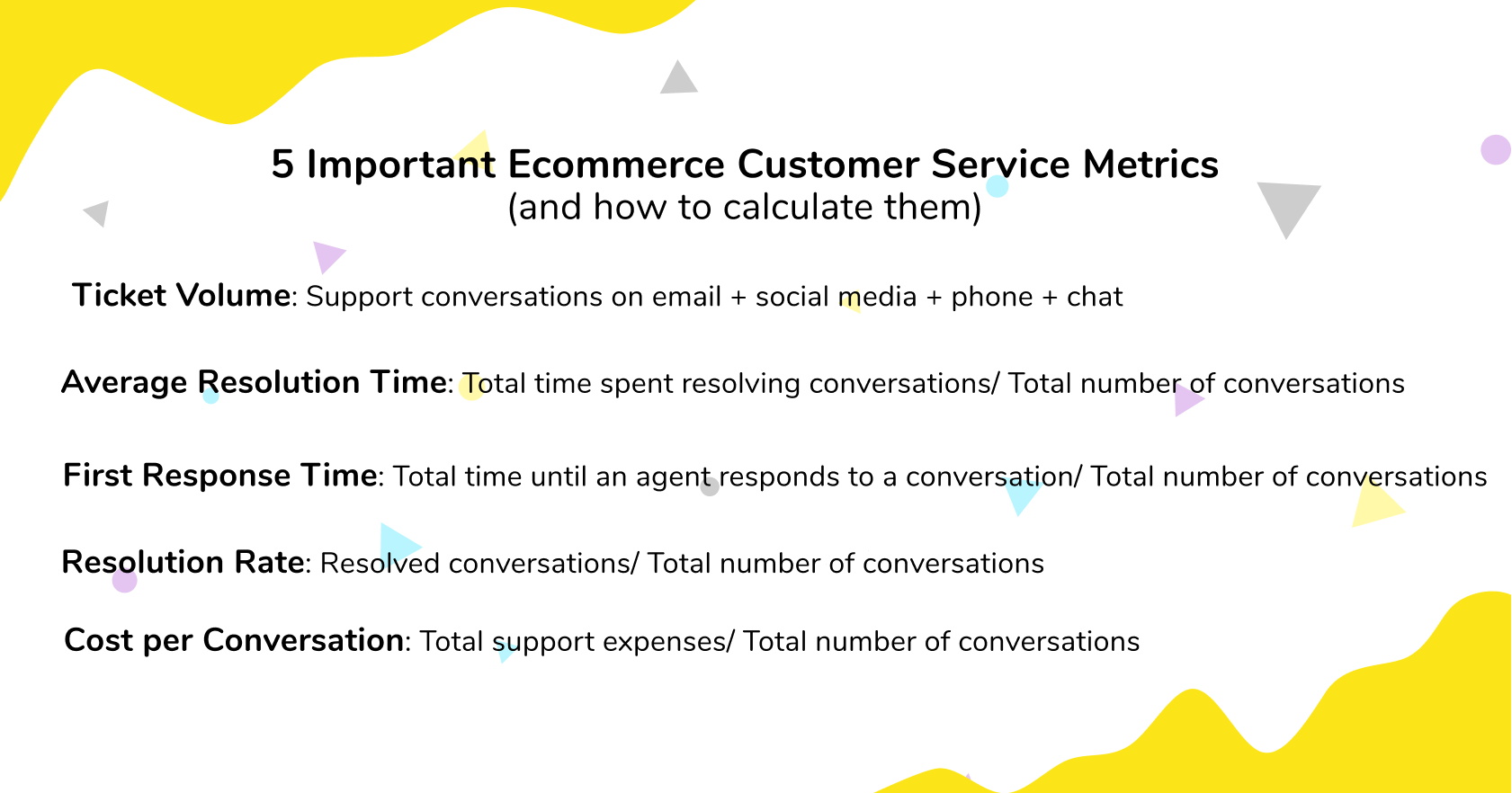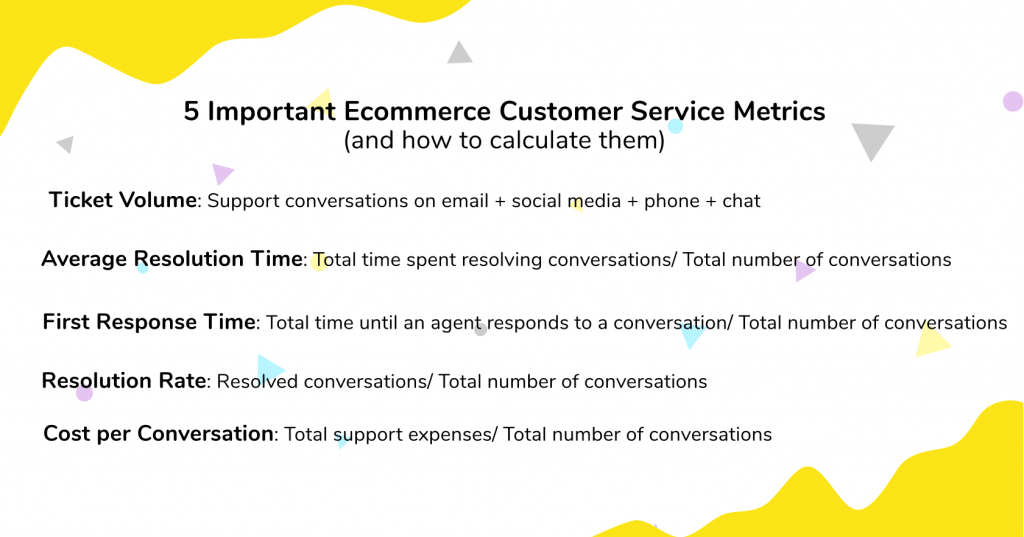 In any case, you'll still want to see its impact on your bottom line, so you'll need to combine your customer service metrics with overall business metrics like retention rate, CSAT, and average customer value. 
Besides the different quantitative customer service metrics you're tracking, you'll also need to read through conversations to make sure they match your brand's tone, voice, and internal quality standards. 
This is an ongoing process. You'll need to constantly use the feedback you receive to update and make changes to your existing customer support system. For example, if you see a new recurring topic, you might consider addressing it with a new knowledge base article or creating a canned reply template. 
Conclusion
And we're done! Implementing these tips is a great way to upgrade your store's eCommerce support strategy. 
However, remember, this is not a one-and-done process. You'll need to track and measure the effectiveness of your efforts and constantly optimize based on the results. 
By selecting the right tools and putting the right systems in place, you'll ensure you can quickly scale your customer support efforts as your business grows. This puts you in the ideal position to best serve your customers and ultimately establish a loyal customer base.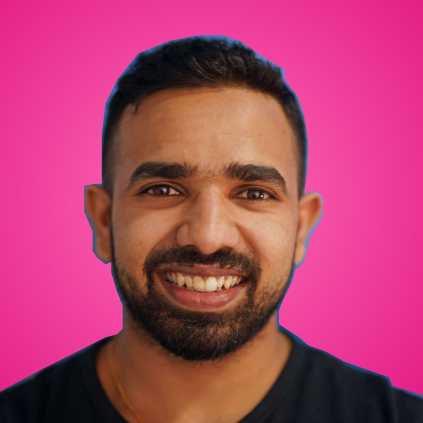 Jayanth Padmakumar
Jayanth Padmakumar is the Content Marketing Manager for DelightChat, the omnichannel customer support tool for small ecommerce brands. He's spent the last half-decade living across Egypt, Peru, Colombia, Vietnam, and India. When he's not geeking out on all things copywriting and content marketing, you can find him watching sports at the nearest watering hole or hiking in obscure spots. Connect with him on LinkedIn or @jaypadmakumar on Twitter.
Comments
comments
Powered by Facebook Comments