The Ultimate Guide to Lead Generation Using Live Chat
Live chat is increasingly playing a greater role in customer support, especially due to the pandemic and resulting market changes over the last year. 
In fact, live chat played a key role in helping already-burdened customer support teams deal with the additional workload and troubleshooting caused by COVID-19. 
However, there is another focus area where live chat can play a powerful role – lead generation. 
Simply put, your live chat strategy can boost sales while driving user satisfaction.
Here's what the data tells us:
According to research by LTV Plus, adding live chat to your website can improve conversions by

12%

.

As per Furst Person,

63%

of customers are more likely to return to a website that has live chat. Further research indicates that live chat has the second-highest customer satisfaction ratings at

85%

, just behind phone support at 91%.

Finally, data from Invespro shows that

38%

of customers

claimed to have made their purchase due to a good live chat session.
So how do you get started with live chat lead generation? 
In this post, we will show you exactly how you can get started generating leads for your business with the help of live chat, and give you real-life examples of expert-approved strategies. 
The two big topics we will cover are:  
---
How to Get Started With Live Chat Lead Generation in Three Steps
---
When used correctly, live chat functionality can take your lead generation game to the next level.
The trick is to lay a good foundation based on personalization, data analysis, and accessibility, and be ready to test, experiment, and optimize. 
Here are a few expert-approved steps to follow to ensure you are set up for successful live chat lead generation. 
Step #1: Personalize Your Brand's Live Chat Experience
As a rule of thumb, eCommerce brands should add a picture, name, and title to the live chat window, as ModCloth demonstrates below: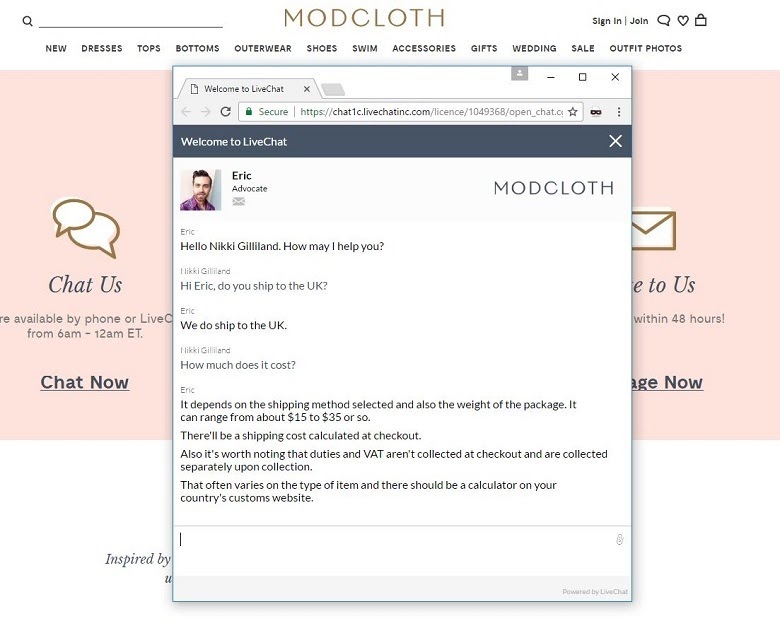 People want to talk to other people, not robots. This small effort adds a personal touch to your live chat feature and humanizes the experience by letting the customer put a face to the person they're talking to. 
Step #2: Track Your User Data Incessantly 
When you drive meaningful customer interactions, your live chat conversations become a treasure trove of critical user data. 
Make sure to leverage the live chat software's analytical capabilities to extract actionable insights on how to improve the customer experience and gather user-centric data such as shopping behavior, preferences, past purchases, buyer intent, and demographics, among other things.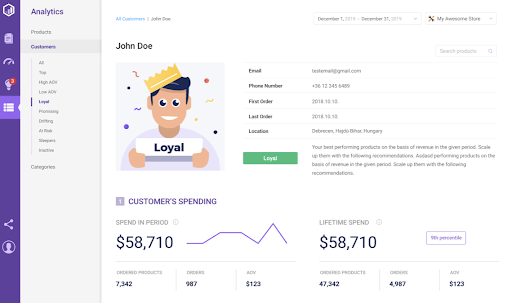 This information can then be used to create rich, accurate, and in-depth user personas, as shown below.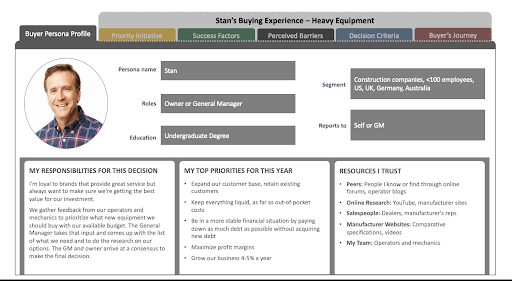 You can also use the information captured within your data-rich customer profile to target leads with personalized offers and messaging: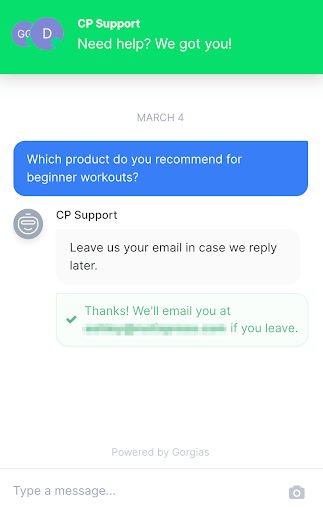 Step #3: Make Sure Your Live Chat Is Accessible
Integrating a live chat service into your website is a big responsibility. You need to ensure that you respond quickly to your users' queries, or else this feature can do you more harm than good. 
If you cannot provide 24×7 service, make sure to let your users know like Nike does. Allow users to send their queries to be addressed by the next available live chat agent:
Pro Tip: Don't be afraid to experiment! Live chat doubles up as an effective marketing tool. You can use it to offer rewards and coupons.  You can encourage visitors to provide real-time feedback and engage them better. You can also direct visitor traffic to your brand's social media pages or the blogs section of your website.
—
Now that you have a good understanding of some of the most important features to integrate while using live chat, let's look at some real-world applications for inspiration.
---
Top 6 Ways to Use Live Chat to Generate Leads and Grow Your Business [+ Examples]
---
1. Use Live Chat to Troubleshoot Common Concerns & Improve User Experience
As specified in GetVoIP research, 92% of people prefer live chat as a communication tool and 68% of users take advantage of live chats when available.
One of the primary reasons that customers want to reach out to live agents is to get their concerns and queries addressed instantly and in real-time. This is where live chat comes in handy. Instead of letting the customer wait on the phone or for an email response, live chat serves as a quicker mode of communication.
Take a look at Nikon's live chat service, which empowers your agents to troubleshoot basic issues 'in the moment,' offering a seamless and satisfactory customer experience.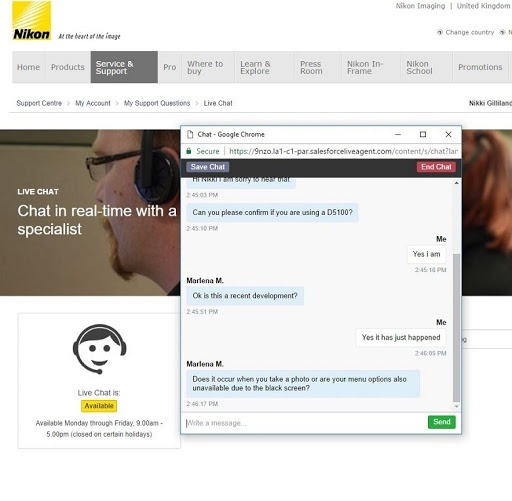 Main Takeaway
With more and more customers embracing online shopping, brands need to think of ways to connect better and more efficiently with users, be it for troubleshooting FAQs or extending a hand of support. 
The idea is to provide users with a convenient, consistent, and value-driven experience – all of which are specialties of the live chat service – to build customer loyalty and boost sales.
2. Leverage Live Chat to Drive a Community-Led Experience and Find New Leads
You can use the live chat functionality to hyper-personalize the customer experience, as Sephora's live chat demonstrates below: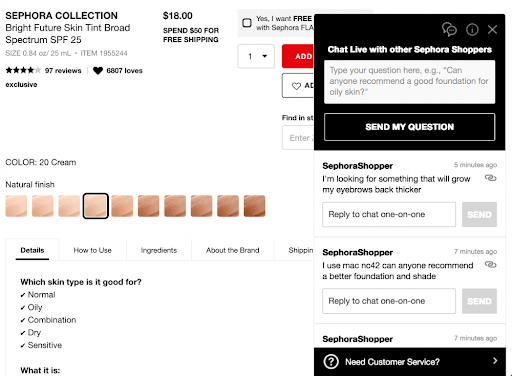 By integrating a collaborative live chat into your existing website or app, you can get the conversation going and reinforce a sense of belonging among your user base. Basically, users can help each other to find relevant solutions, suggest product recommendations, etc., and benefit from a productive user experience.
Main Takeaway
Integrating a live chat feature for online communities takes the load off of your CX agents, who can then focus on looking after disgruntled users. Additionally, this feature can seriously boost your user engagement, making it a win-win for everyone. 
You can also analyze the chat's interactions and find useful information on your customer's current preferences, pain points, etc., to tailor your offering/experience accordingly. Small tweaks like these can significantly boost your lead generation efforts.
3. Use Personalization to Make a Lasting Impression 
In the digital world, particularly for eCommerce websites, the first impression is the last impression. If you want to create a lasting impact on a new lead, you can use live chat to greet them in a warm, friendly, and casual manner like Warby Parker's live chat does: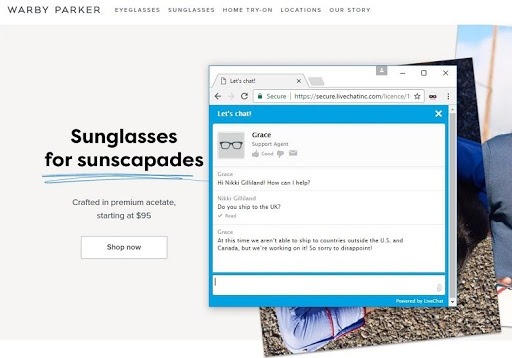 Main Takeaway
Customers love getting specialized attention and proactive service from brands. Without sounding nosy or annoying, brands can leverage live chat to actively reach out to customers, provide customized assistance, and improve the overall customer experience. 
This definitely has a positive impact on your existing user base as customers turn into lifelong brand loyalists, thanks to a seamless and consistent user experience.
4. Implement a Live Chat Service That's Categorized and Organized
When it comes to eCommerce websites, most users abandon ship when they get overwhelmed with the sheer volume of products, styles, and options available. 
In such a scenario, separate your live chat service like Nordstrom does into neat segments such as 'Designer Specialist,' 'Wedding Stylist,' and 'Beauty Stylist.' 
This can provide users with a sense of relief and streamline the browsing experience without users facing any hiccups. More importantly, if users do get stuck while browsing, they know exactly who to reach out to so they can get their queries addressed at the click of a button: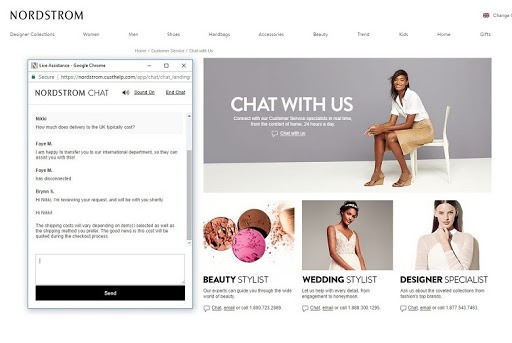 Main Takeaway
At the heart of effective and impactful lead generation lies a productive, user-centric customer experience. Live chat empowers your brand to eliminate any friction points your visitors might face as they get to know more about you. 
As a pro tip, remember to integrate this functionality on your highest-performing website pages, such as the checkout page, product pages, the contact page, the landing page, and so on.
5. Use Audio- and Video-Powered Live Chat Functionalities to Wow Your Leads
COVID-19 has created a tectonic shift in the way consumers shop online. Everything is video-driven today. Also, the interest levels of customers have decreased. They have become demanding.
With so many choices available, they can easily switch from one brand to another and look for a company that provides them with the support they need. 
To counter this, it's absolutely essential to offer choices and build relationships, and audio and video support is a crucial step in that direction. It helps you to stand out from the crowd and showcases that you care for your customers. 
This is why brands today are increasingly employing video and audio technology to get the attention of their customers. 
Brands are using face-to-face-driven video technology to provide product demos, troubleshoot user issues collaboratively, and deliver a superior customer experience, without requiring customers to be physically present at the store. One brand that has excelled in the use of live chat is Goldsmiths: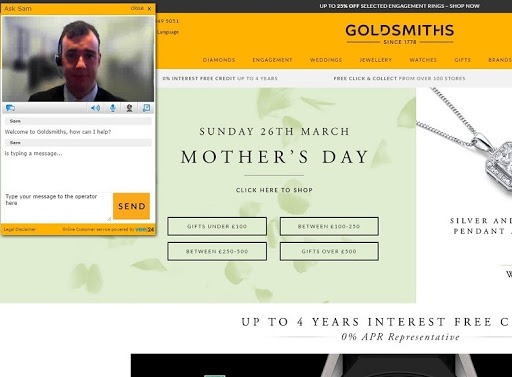 Notice how the brand offers a power-packed user experience – complete with sound and video capabilities – to mimic the in-store personal service that customers expect brands to offer today, even virtually. 
This perfect fusion of the physical and digital worlds allows brands to boost their bottom line without compromising on the quality of service provided.
Main Takeaway
The live chat tools of today are no longer restricted to blocks of text. You can integrate video and audio capabilities to deliver a stellar user experience. This also reduces customer effort as they can purchase products online with greater confidence and trust from the comfort of their homes. 
Tools like Acquire provide live chat functionality in conjunction with video and audio calling features. All these features ensure that you make the most of your audio- and video-powered live chat experience to empower your customers.
Wrapping Up 
Live chat is all the rage now, and for good reason. With COVID-19 transforming how brands sell products and the way consumers buy them, using the right technology to augment your lead generation efforts and capture a larger share of the market makes business sense.
To wrap up, here's how live chat can supplement your lead generation initiatives:
Help troubleshoot common concerns and improve the overall user experience.

Drive a community-led experience and empower brands to find new leads through increased organic

user engagement

.

Enable brands to welcome new customers with personalized, friendly greetings, and help create a lasting first impression.

Allow brands to pave the way for a seamless, organized, and consistent shopping experience, leading to a positive user experience.

Empower brands to wow their customers and leads by making use of audio- and video-powered features.

It can be easily integrated into the brand's social media platforms to connect with customers at their channel of choice.
Final two cents: At the heart of live chat lies the ability to deliver a superior customer experience, keeping users at the forefront of every interaction, sale, or touchpoint. An improved user experience automatically leads to increased sales and a happier, more loyal user base.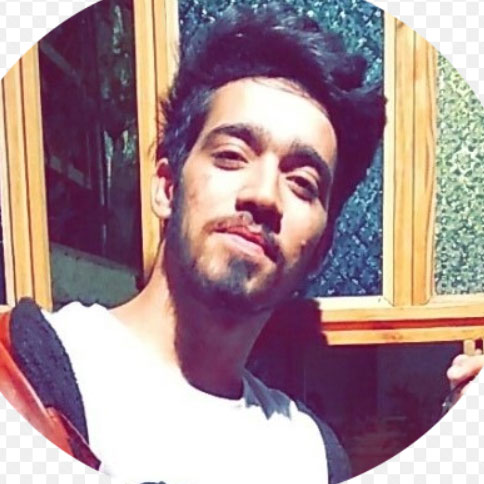 Surya Ranjan Pandita
Surya Ranjan Pandita is a digital marketer at Acquire. He is always on the lookout for new optimization strategies and loves to create actionable content. Feel free to ping him on LinkedIn.
Comments
comments
Powered by Facebook Comments