How to Get Your Product on The Amazon Internet Famous Page: 3 Examples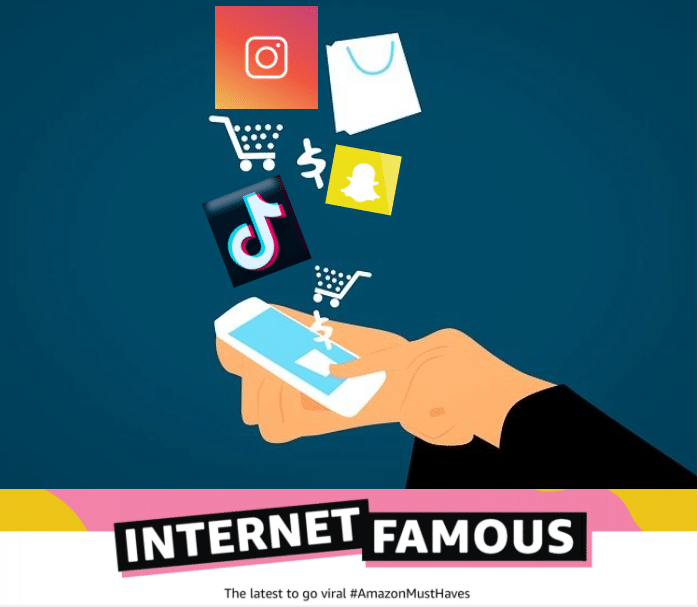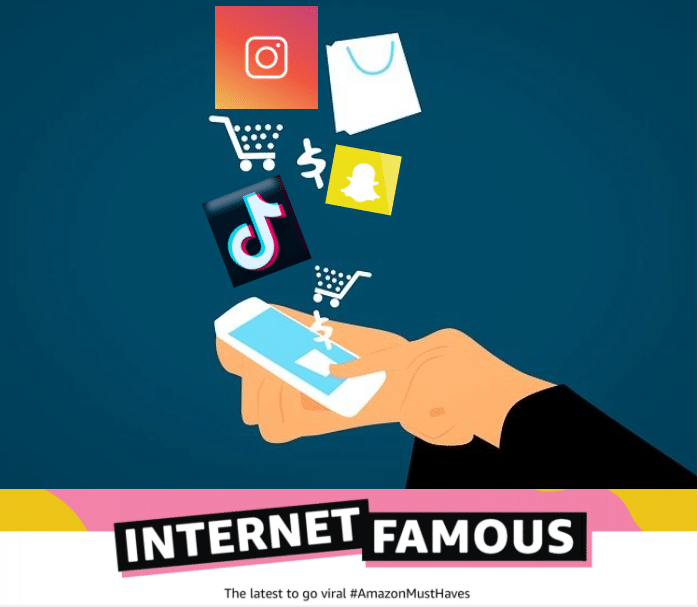 If you're an Amazon seller or have an online store, you might want to check out the Amazon Internet Famous section. This secret selection is home to products that have become so popular that they've reached 'internet famous' status. It's packed with products that went viral on social media—many made famous by marketing on TikTok, Snapchat, and Instagram.
But what makes these products so popular? 
This article dives into how some Amazon products become internet famous, pointing out several of the company's digital marketing strategies that have contributed to the success of these products. If these successful advertising strategies can help your business go viral and increase sales, why not take a look?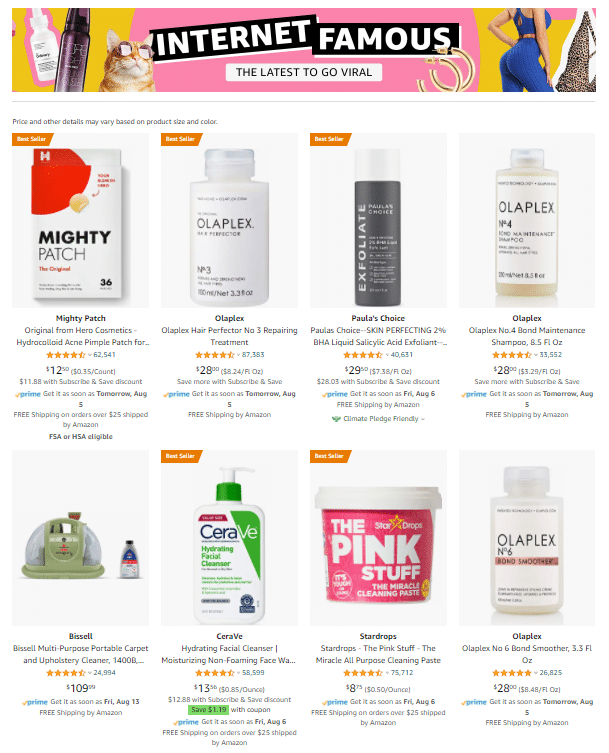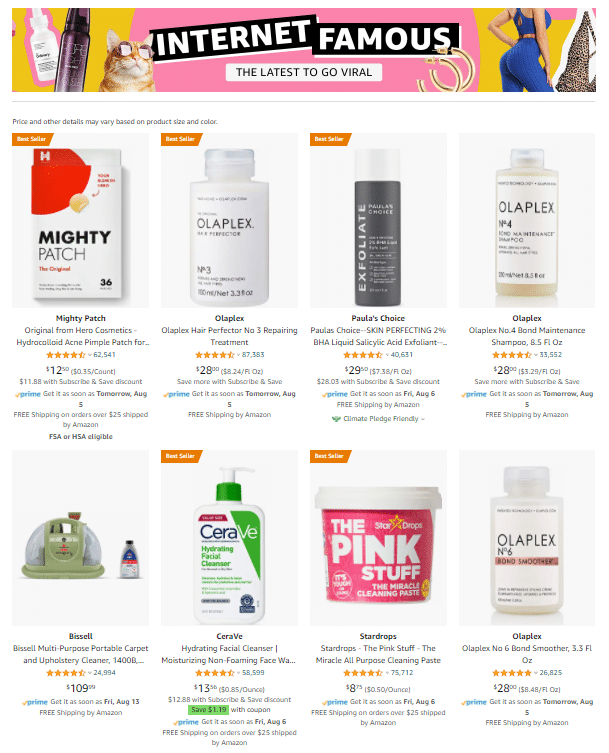 Source / Amazon.com
What do 'Internet Famous' Products Have in Common?
The products in Amazon's Internet Famous store all went viral for different reasons. Some are trending fashion statements; others have a particularly snappy name. But they all have one thing in common: a promotional strategy so native and fine-tuned to social media, that people couldn't resist sharing and buying. Here are three prominent brands from Amazon's 'Internet Famous' store that showcase the core components of a viral campaign. 
1) Mighty Patch by Hero Cosmetics
When Mighty Patch's Acne patches launched on crowdfunding site Indiegogo, they had a modest goal to raise $5,000 in two months. When their crowdfunding campaign ended five months later, they had sold nearly one million patches — a massive success by any measure. 
Mighty Patch's TikTok channel has over 2 million followers. Combined with follower counts on Facebook and Instagram, the brand reaches about 4 million people. So how does Mighty Patch do it? By producing entertaining videos full of product tips and encouraging engagement wherever possible.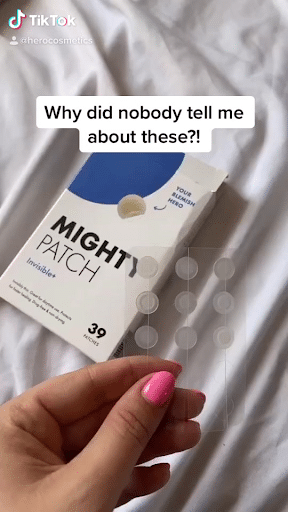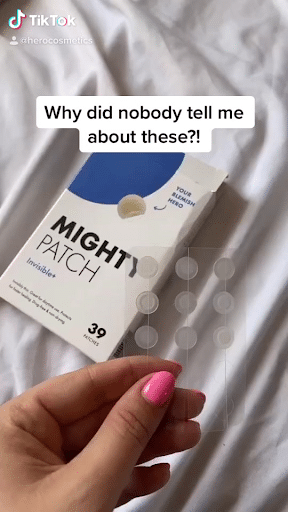 Source / TikTok.com
How Mighty Patch Became #1 on the Amazon Internet Famous Store
For example, the company launched a campaign in 2019 using the hashtag #schoolsurvivalkit. This 'Get Ready with Me' campaign also featured morning routine videos – a popular influencer video format – that included their usage of Mighty Patches for overnight acne treatment. The cherry on top of Hero Cosmetic's TikTok marketing campaign was a one-month giveaway of free acne patches to sign-ups with a .edu email address.
Hero Cosmetics focused on empathizing with its target audience and teens' anxiety when going back to school after summer. It featured Mighty Patch as a part of a package of tips from trusted faces users were familiar with, making the advertisement feel native, authentic, and subtle. Lastly, the company created a campaign that encouraged user participation. This doubles as a source of quality leads and also further promotes the brand as users create and share their own content. The targeted campaign spoke directly to TikTok's primary audience and led to an impressive 12% engagement rate, reaching over 4 million users. 
2) The Pink Stuff Cleaning Paste by Stardust
If you're skeptical about whether a product beyond beauty and fashion can trend online, take a look at The Pink Stuff Cleaning Paste, a household cleaning product with a cult following on TikTok.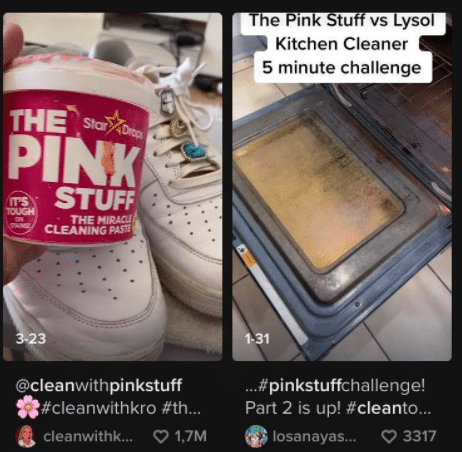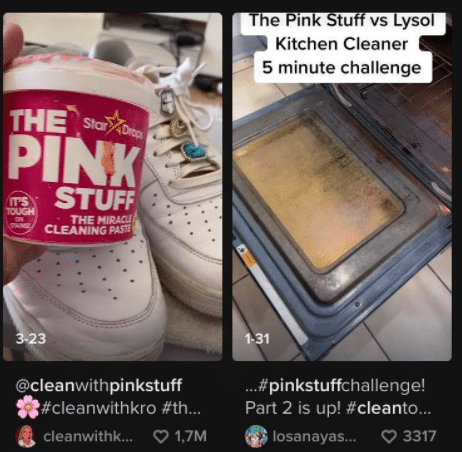 Source / TikTok.com
The Pink Stuff is a full brand of cleaning products made by Stardust, known for its unique look and smell as well as its effectiveness. The brand is mostly known for the Pink Stuff Cleaning Paste. Stardust's unforgettable pink paste popped up repeatedly in trending content to solve everything from shoe cleaning to grout whitening. Curious viewers bought it and shared their own videos proving its quality and presenting new ways to use it. It wasn't long before the brand was a best seller on Amazon, proving how vital finding your niche is to sell Amazon products on TikTok.
How The Pink Stuff Went Viral on TikTok
Unlike the other products on our list, The Pink Stuff's internet fame was accidental. The product was pre-destined for social media success due to its affordable price, versatility, and eye-catching branding. Its popularity was further aided by TikTok's most undervalued trait – its niche communities. In this case, the "CleanTikTok" side of TikTok shared The Pink Stuff with the world. In this community, household cleaning hacks, before/after videos, and supremely organized spaces are shared and showcased. 
The Pink Stuff's success proves that social media trends aren't exclusive to fashion and beauty. If you have a high-quality product with visually appealing packaging or branding, there is a niche community ready to broadcast it to millions of people. In this case, Stardust was lucky that the cleaning community of TikTok found its products organically. But nothing is stopping you from exploring the niche communities thriving on platforms like TikTok, Instagram, and Pinterest, who will happily advertise your products for you. 
3) Olaplex Hair Products
One of Amazon's newest stores, Olaplex Hair Products, sells products for healthier hair, including one that conditions strands after bleaching or straightening. Just six weeks after being added to Amazon's store, Olaplex reached more than 10 million views, and its products are all over the Amazon Internet Famous store.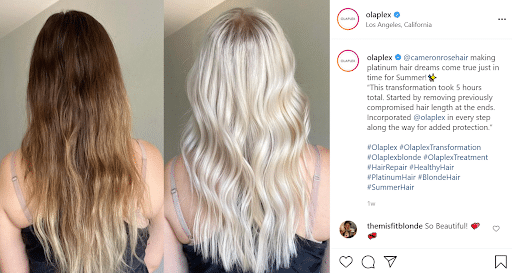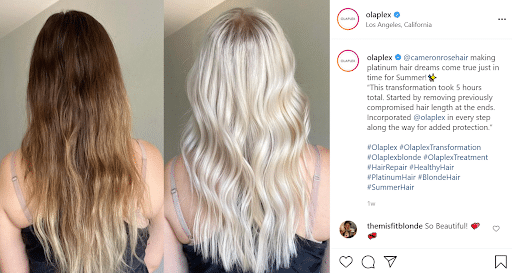 Source / Instagram.com
Olaplex's Winning Social Media Advertising Strategy
Similar to The Pink Stuff, Olaplex has gained internet fame by tapping into a dedicated audience. At-home beauty and hair care tutorials have existed on Youtube, Instagram, and other platforms for the better part of a decade. Bloggers and stylists have featured Olaplex products in their content since 2016. The company developed a direct-to-consumer marketing strategy focusing on these influencers and highlighting posts and videos of satisfied buyers. 
Now that Olaplex has a good grasp of digital advertising, it has an intentional, viral-worthy campaign to follow with every new product release. Contributions from professional influencers give Olaplex a highly respected reputation in the beauty communities of major social media platforms, optimizing their organic reach. The company pairs this with a healthy amount of hashtag campaigns and paid sponsor ads highlighting videos, photos, and quotes from real people. By promoting user-generated content, Olaplex ads and posts blend perfectly into users' social media feeds and achieved high engagement rates.
Conclusion
If you're looking for an example of how to make a product go viral, look no further than these three sellers. They all used different strategies that helped their products Amazon Internet Famous status, and they can serve as great inspiration if you want your own product to succeed on popular social media platforms.
It's possible to make your products go viral, but it will take a lot of work and creativity. With TikTok ads becoming increasingly popular, now is the time to invest in a TikTok ad agency before it's too late!