TikTok Advertising: Is it Right for Your Business? 3 Pillars of Success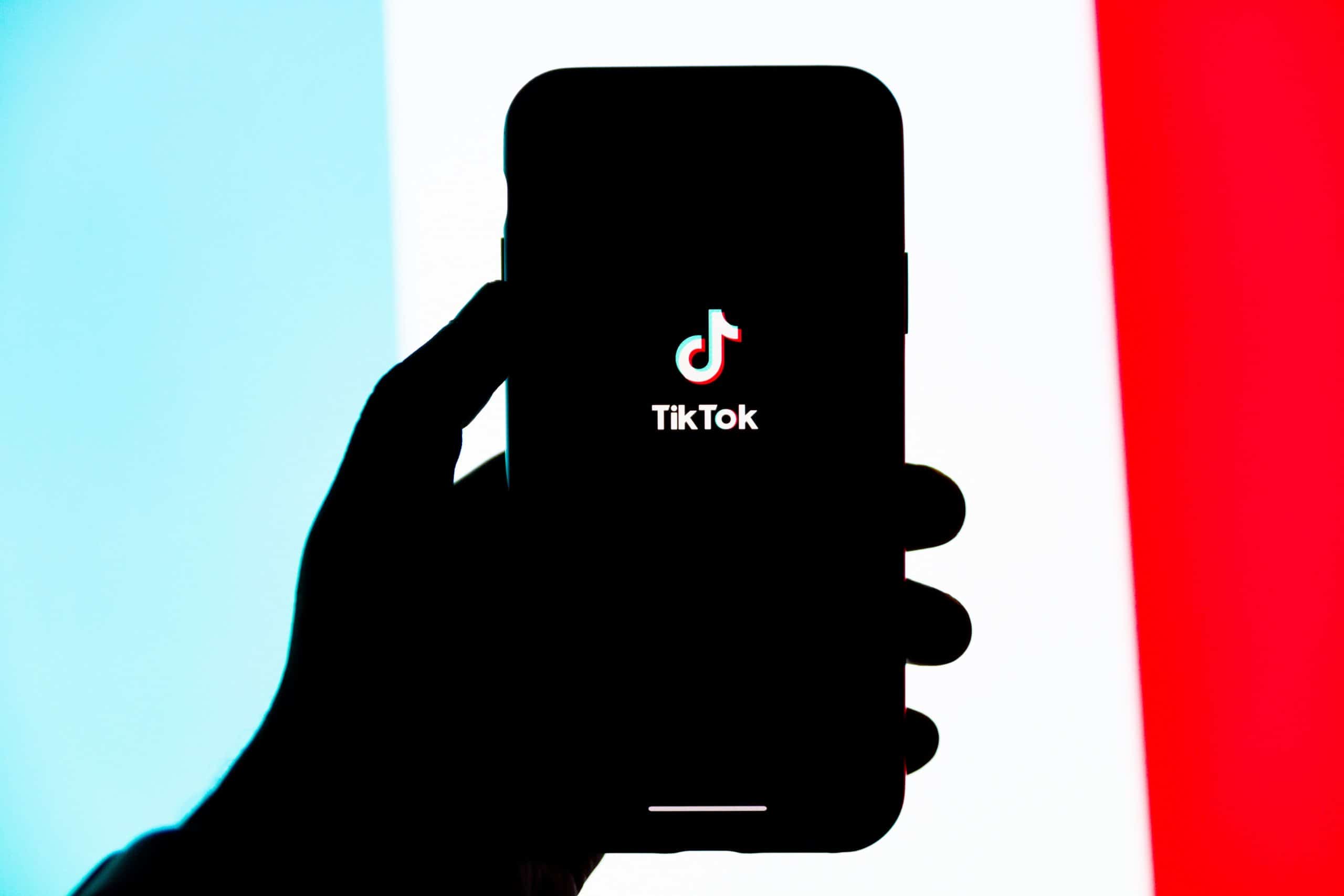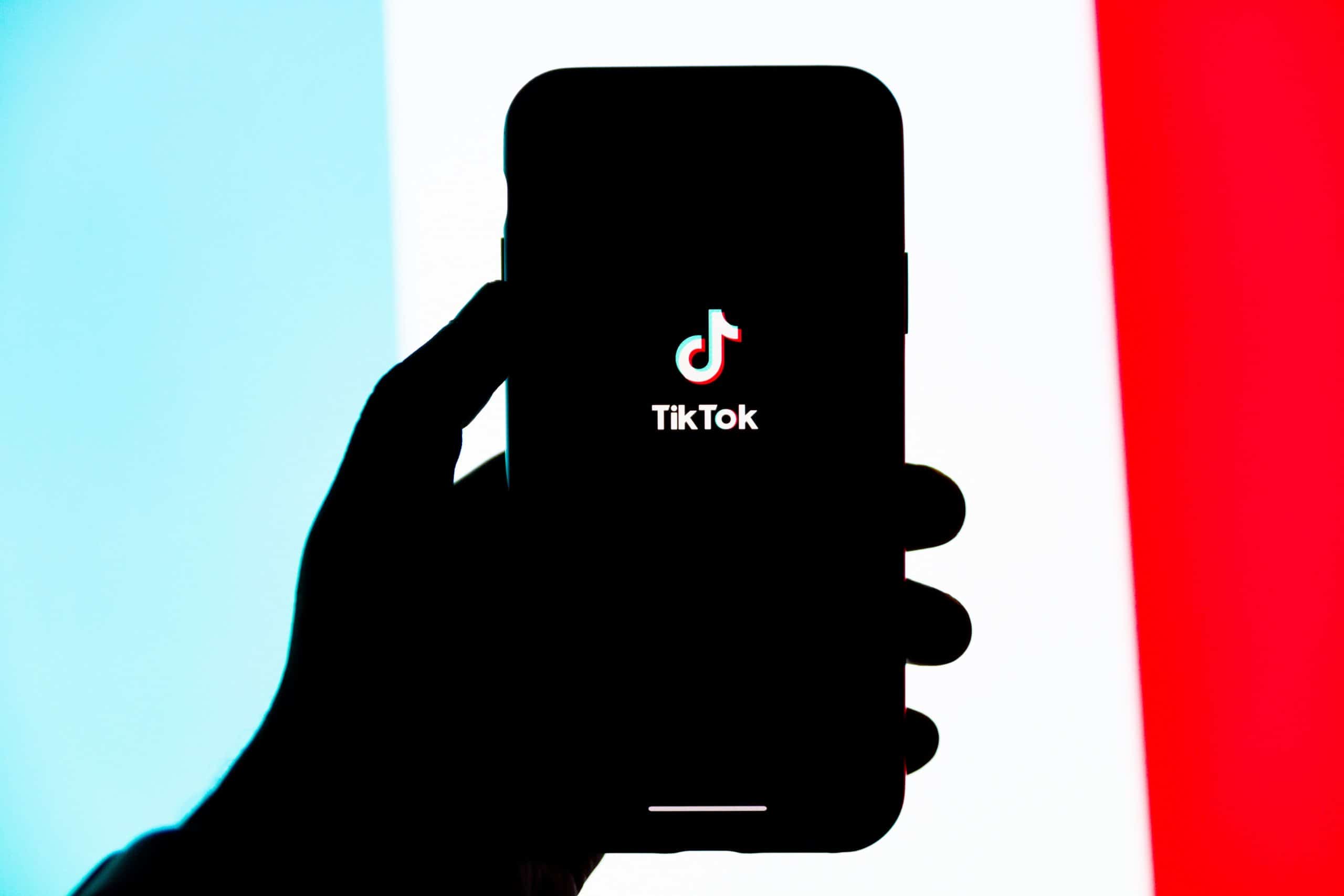 Source / Solen Feyissa on Unplash
TikTok has insane potential for businesses, but most of them don't even know it. Here are 3 things you should do to find out if TikTok advertising is right for your brand.
TikTok is quickly taking over as one of the most important social media platforms. With one of the most ad-friendly audiences and the potential to reach millions of new customers, the video-sharing app has also proven itself as a lucrative digital advertising tool. In fact, some brands have become internet-famous using a marketing strategy focused solely on TikTok and its massive user base.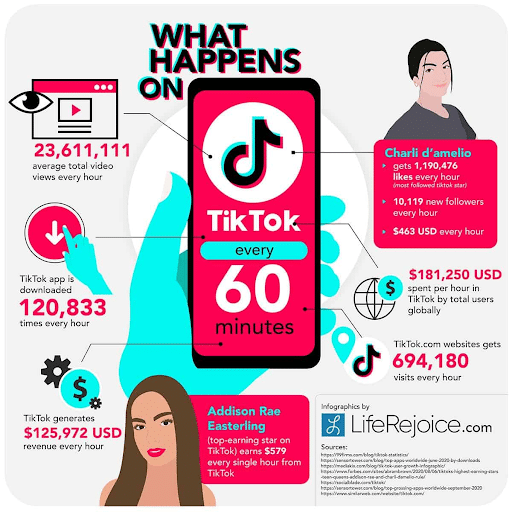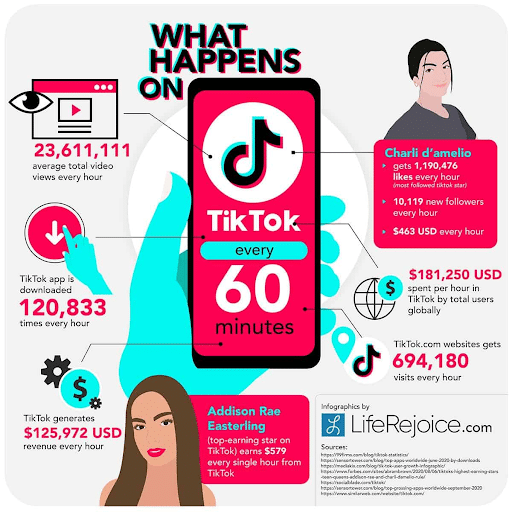 Source / DailyInfographic.com
Despite all of this potential, even the most seasoned digital marketing experts don't consider advertising on TikTok. Some who experiment with TikTok advertising come out with less than stellar results and dismiss the platform forever after. In reality, most brands stand to benefit from using TikTok in their marketing initiatives. TikTok has undergone an incredible transformation this year, and the company has shown a lot of dedication to making the platform profitable for businesses beyond beauty products and clothes. 
Many businesses overlook TikTok as their best marketing tool because:
They don't know how to find their target audience on TikTok (or don't think it's there at all)
They didn't adapt their marketing to TikTok's content
They didn't put in enough effort when they experimented with TikTok ads
In this article, we'll be debunking common misconceptions and providing strategic tips as we go through 3 things you should do before determining TikTok advertisements aren't right for your business goals.
1. Get to Know TikTok's Audiences
If you think TikTok is full of teenagers doing trendy dances and not much else, your perspective needs an update. Time and time again, you'll hear that TikTok is only useful for businesses with young audiences. While it's true that TikTok has a much younger user base than platforms like Facebook or Instagram, its audience is rapidly growing and diversifying: 59% of users are over the age of 24. Countless niche communities are flourishing on TikTok, and the brands that tap into them have enjoyed both incredible success and few competitors.
With the right strategy, even B2B companies, educational entities, or equipment manufacturers can find receptive and responsive audiences to advertise to. Just take a look at some of the stats on the more mature section of TikTok. Small businesses have a bustling community in which business owners give tips, share relatable moments, and seek advice. The #Smallbusiness hashtag has over 40 billion views alone: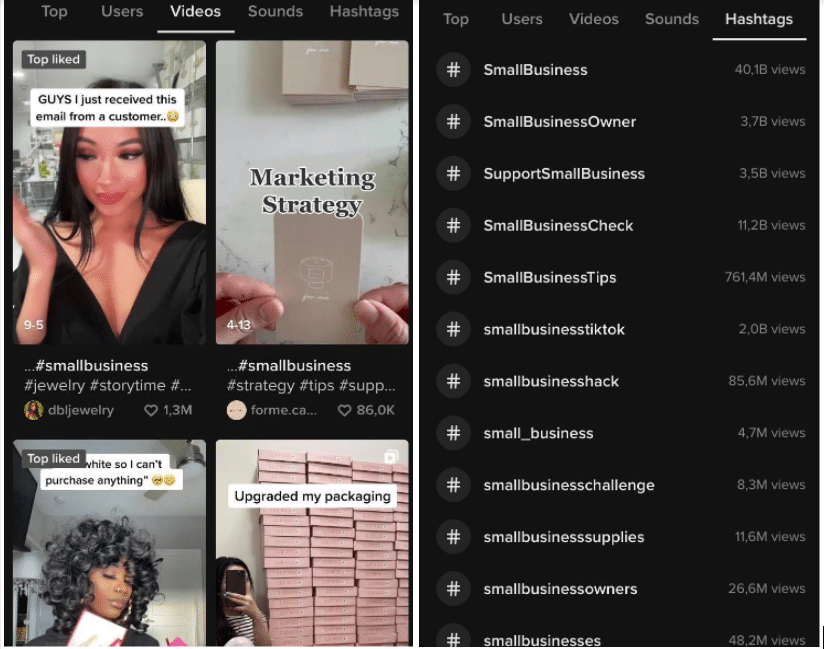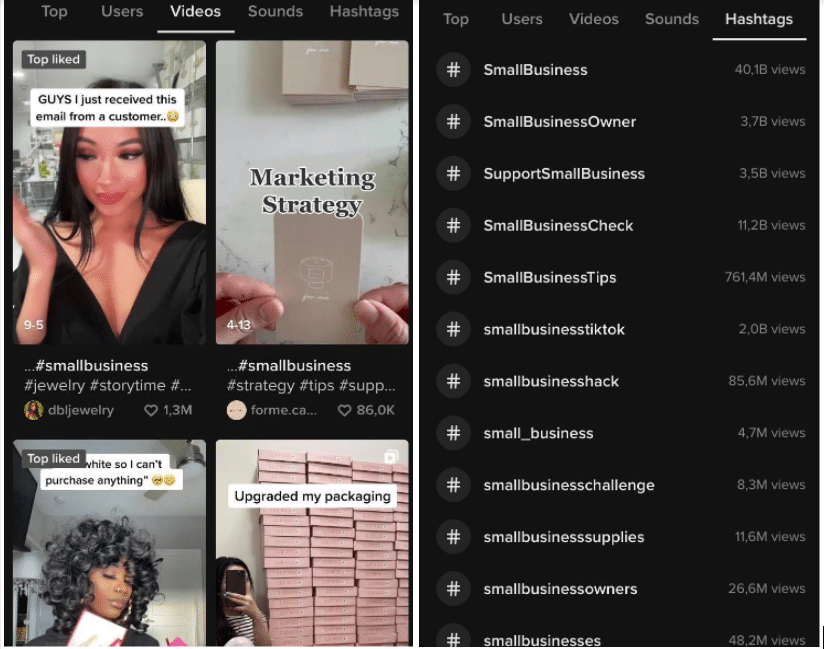 A distinguished lawyer from Ostroff Law became known as "The TikTok Lawyer" and currently has over 200,000 followers, with his profile providing a direct link to sign up for a consultation: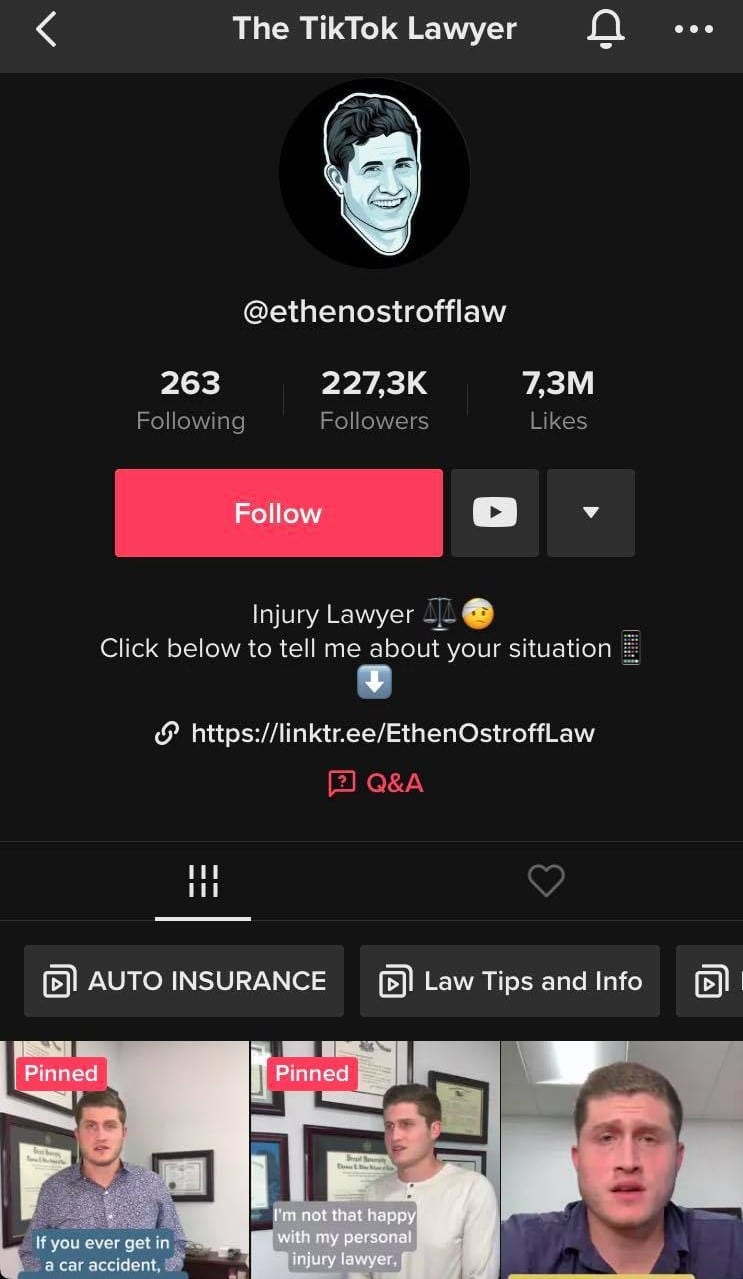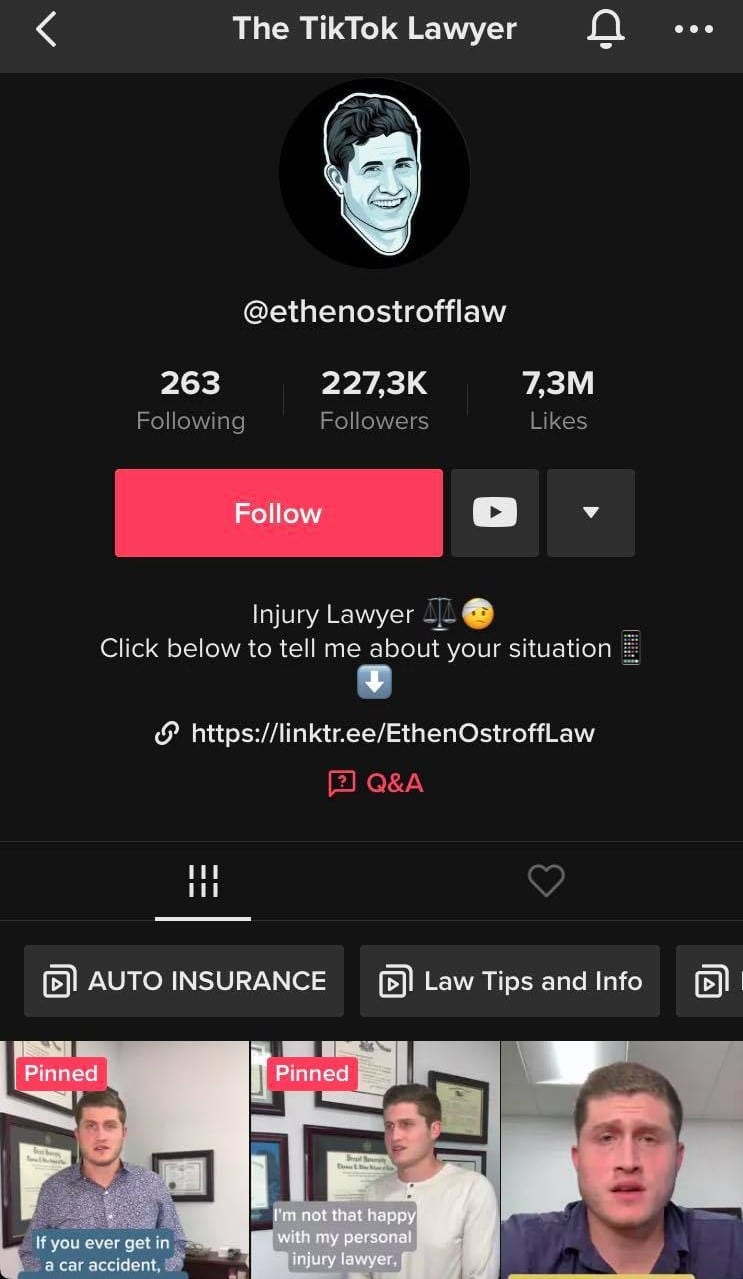 There's even a Tiktok community for equipment rentals, with #equipmentrentaltiktok at 8.5 million views currently:
Simply put, it's highly likely your target audience exists on TikTok – perhaps in the millions. The key to finding them is using the platform yourself or hiring an experienced TikTok advertising agency in order to discover your niche, the hashtags they use, and the content they enjoy.
2. Prepare to Create a Completely Different Marketing Strategy
TikTok is not comparable to Instagram or Facebook, and importing marketing methods and materials from other social media platforms will result in lackluster results. Businesses who want to make TikTok ads that convert need to create content that is native and authentic to the platform; brands who try too hard or who use traditional marketing methods can come across as out of touch or disingenuous. Inversely, businesses that create a TikTok marketing strategy and tap into the platform's whacky trends or unconventional humor the right way can become instantly popular.
Luckily, this means that unpolished vs. professionally made videos actually perform better. In fact, the more your ads and marketing materials look like a typical user's uploads, the more traction you're likely to get. Take a look at some of RyanAir's TikToks, for example. Most marketers would shun the idea of making fun of their own customers, but users responded very well to their joke, which features trending audio:

That's not to say that advertisements have little to no effort involved, however. The most important aspect of marketing on TikTok is being creative and engaging. It can take some getting used to in order to find the balance between a well-thought-out video that fits TikTok's style and still feels casual, but adapting your brand's idea of marketing in this way is beneficial beyond TikTok. You can recycle and repost TikToks as successful ads on other platforms like Facebook – just not the other way around. 
3. Don't Be Too Cautious With Your TikTok Advertising
Businesses have reason to be apprehensive about advertising on TikTok: the ad manager is relatively new and still in development, the style of marketing required is completely different, and TikTok's reputation is not very professional. It makes sense that a business wouldn't want to sink a lot of resources on an experimental platform, but not investing enough time, money, and effort into your TikTok advertisements can ruin your chances of success before you even make them.
If your business is hesitant but curious about advertising on TikTok, create a brand account and upload regular, non-promoted videos instead of starting with small budget ads. Upload regularly and explore the platform to get familiar with creating content. This takes time and effort, but it takes the monetary risk away and helps build your brand's reputation. Regardless of whether or not they run promotional campaigns, successful business accounts upload videos and engage with their audience consistently: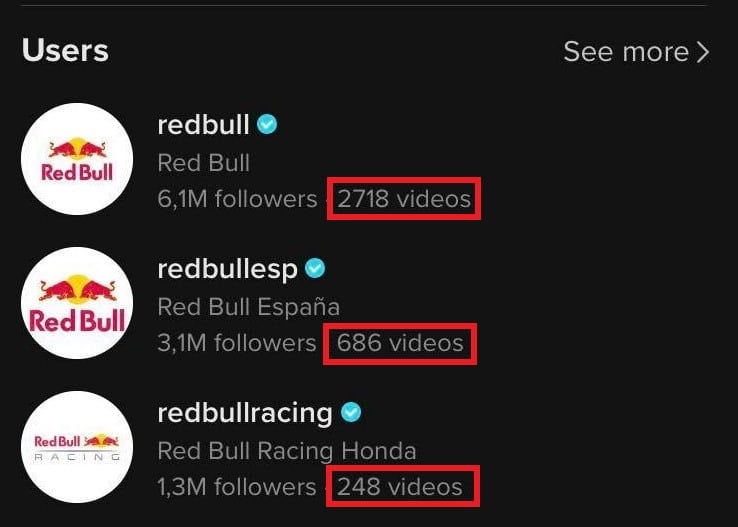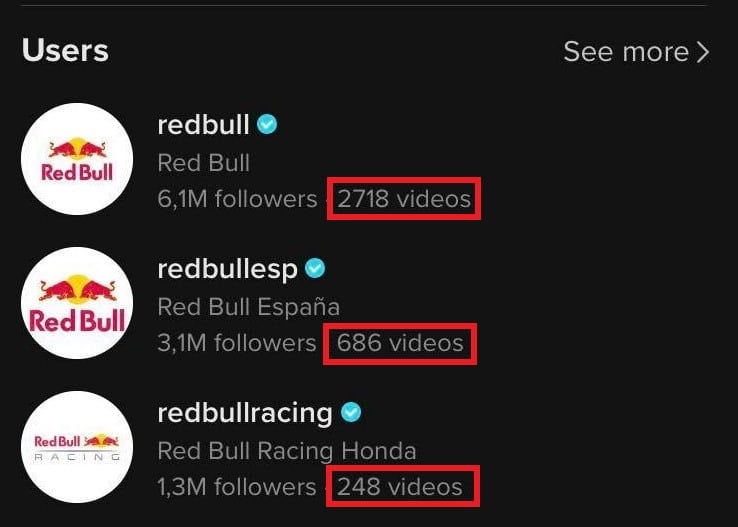 Once you're familiar with TikTok and have a good idea of what content works best for your business, you can properly invest in promotional ad campaigns with more confidence. Worst case, you might find that TikTok simply isn't the platform you need and focus your marketing budget elsewhere. Alternatively, you might find more success with the help of TikTok influencers who already have established audiences versus creating your own advertisements on TikTok. 
Wrapping Up
With Facebook and Instagram losing a lot of their advertising appeal recently, Tiktok is waiting for businesses of all shapes and sizes with open arms. With the right perspective, strategy, and effort, your brand can increase your sales and revenue and increase brand awareness just by uploading a few videos. Contrary to popular belief, TikTok's advertising space is not only beneficial to businesses catering to Genz; but you may find the platform isn't right for you if you cannot keep up with the platform's fast-paced nature or adapt to its unique (and often unconventional) style of content.  
As the company continues to broaden its appeal to businesses of varying industries, It's only a matter of time before businesses catch onto TikTok's potential and wide appeal. Right now, forward-thinking marketers are enjoying minimal competition and maximum reach comparable to Facebook in the early 2010s, so now is arguably the best time to start advertising. Even if you determine TikTok isn't right for your brand at the moment, be sure to check in often – the digital world evolves quickly, and you may find the platform perfect for your marketing campaigns in the near future!
Comments
comments